At some point, every homeowner will get something on their carpet that doesn't belong there. Whether it's a devastating wine spill or pesky glitter sparkles, you may be wondering if there are carpet cleaner options without doing an expensive replacement. This guide is here to help you learn more about finding carpet cleaners for your home.
Overview
Rug or carpet cleaning can be as simple as doing a weekly sweep or as intensive as a multi-day treatment. Different treatments have different levels of effectiveness. However, proper rug cleaning ensures the safety of your home from allergens and maintains the lifespan of your carpet. 
Wondering what methods to opt for from your carpet cleaners? Here are a few of the top options.
Hot Water Extraction

Sometimes referred to as carpet steam cleaning, this method involves putting high-pressured hot water and cleaning chemicals into the rug fibers, then sucking them out and any excess dirt. 
The carpet steam cleaning process typically starts with pretreating, then uses specialized tools. It's considered one of the best and most intensive methods of cleaning. However, it takes a long time to dry, increasing your chances of mildew growth if not dried quickly enough. Professional carpet cleaners will help ensure everything dries efficiently. 
Dry Cleaning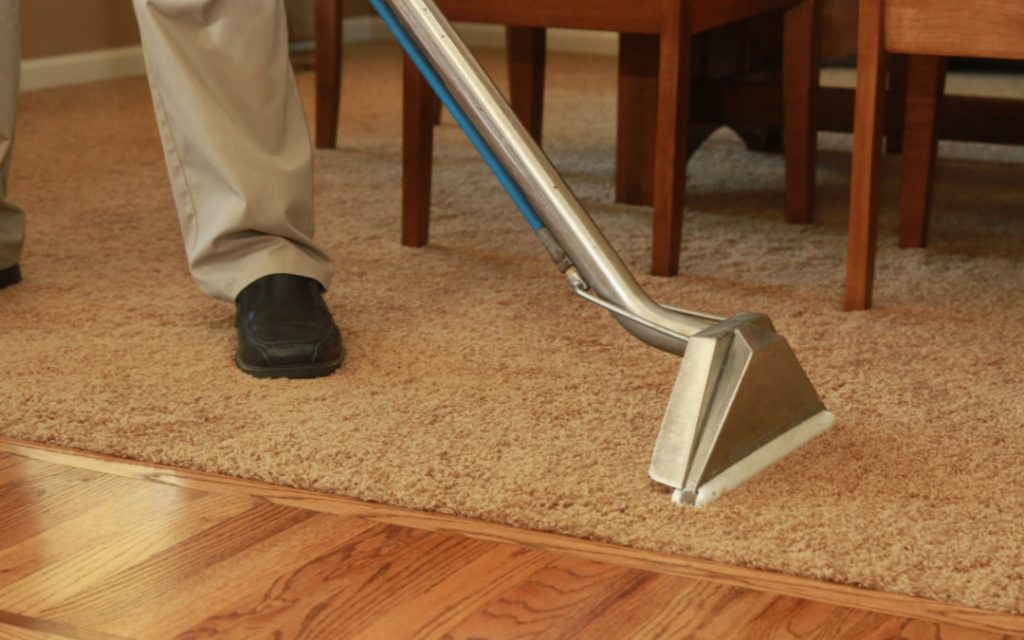 This method requires using VLM (very low moisture) machines that use dry chemical compounds and cleaning solutions. As the name implies, they dry quickly.
One of the most common methods of dry-cleaning is Encapsulation. Carpet cleaners apply synthetic detergents that become powder upon drying to the affected area, then vacuum or brush away the powder. This method is considered more environmentally friendly than other methods because of the limited amount of residue it leaves behind.
Spot Stain Removal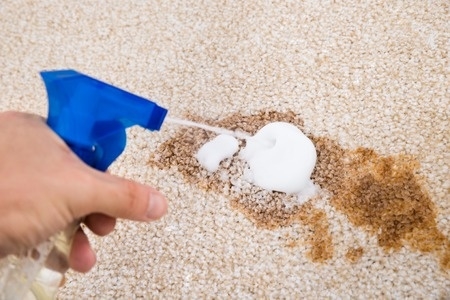 Using various chemical compounds and shampoos, carpet cleaners target specific damage in one area. These methods are varied and work with different levels of success depending on the materials used and the makeup of the rug fibers. 
Professional Services
Not only is a professional service an excellent choice for convenience, but the wide breadth of services and companies means that you can customize your service to fit your specific needs. 
When it comes to rug cleaning, there is no one size fits all solution. Based on the variance of fiber makeup and spill types, the EPA doesn't even have specific recommendations on how often you should clean your rugs, so you must find what works for you. 
With that in mind, here are some things to consider when hiring professional carpet cleaners.
Price
When weighing different cleaning services, your budget is one of the first things to consider. Prices vary by service (carpet steam cleaning vs. dry cleaning, for example) and company. 
Choosing the lowest price isn't always the best option, though. Before booking, double-check that companies with extremely low prices have their proper licenses, or you might end up with ineffective work that damages your carpet more in the long run. 
Chemicals Used
Considering what chemicals your cleaning service uses before booking. Be on the lookout for companies using formaldehyde, which can be dangerous for pets and small children if not removed correctly.
For the environmentally conscious, ask your carpet cleaners if they have 'green' sanitizing alternatives to their regular products. Common chemicals like naphthalene harm the environment in their creation and distribution. So make sure to check if any carper cleaning services near you use other products for rug cleaning.
Reputation
Not all cleaning companies are created equal. Always read the reviews on reputable, neutral sites and listen to word-of-mouth feedback before picking professional carpet cleaners. 
Ask how a professional rug cleaning company handles insurance protection if something goes wrong and what practices they use during mold and mildew fighting treatment. And, once the job is completed, try to leave an honest review so other consumers know what they're getting into. 
Doing It Yourself
Using a professional cleaning service is often recommended over doing it yourself. In terms of liability, effectiveness, and convenience, many find an annual professional carpet cleaner to be a worthwhile investment for the longevity of their rugs. 
If you opt for DIY, here's how you find the best cleaning solutions. 
Choosing Good Cleaning Products
It's essential to consider the makeup of your carpet before picking a cleaner from the store. Read up on the ingredients in recommended products and ensure they won't harm small children, pets, or people with allergies in the home.
Equipment
Typical at-home equipment includes a vacuum, but more heavy-duty items from your local hardware store can be found. 
Check reviews and watch tutorials before using any advertised equipment. Many DIY carpet steam cleaning tools over-shampoo or over-wet rugs cause long-term damage to get that "as seen on tv" dirt-removing shine.
Final Thoughts
While DIY cleaning may be tempting, professional carpet cleaners know how to keep your home clean without shortening the lifespan of your rugs. When searching for professional carpet cleaners in Chicago, Illinois, use this guide to know what to look for in your cleaning crew and products.