For those wanting to clean their floor tiles and grout, we at My Carpet Cleaning did some digging and would like to introduce you to 7 different tile and grout cleaners available on the market. Our research team reviewed all products independently, and we recommend them. If you purchase any product below, we will not receive any commissions, and we do not represent any company mentioned in this article. 
With so many tile and grout cleaning solutions on the market, it could be hard to choose the correct one. Finding cleaning solutions can be tricky since numerous product options have different uses, strengths, and other characteristics. So if you're ready, we will begin.
Clean-EEZ Grout-Eez Tile & Grout Cleaner
For those wanting a reliable tile cleaner that can be easily used with minimal hassle and without needing special grout cleaning equipment. People who prefer liquid formulations or sprays of products. This cleaning product has high power and has proven effective in addition to a simple application procedure. It uses double-release technology, is equally effective on tile and grout, and removes stains and discoloration easily.
Plus, it's safe for all tile and grout types, including ceramic, porcelain, marble, and more.
Spray on, let sit for a few minutes, then scrub with a brush or cloth and rinse away for sparkling clean tile and grout. Trust us, your bathroom or kitchen will thank you! Give Clean-EEZ Grout-Eez Tile & Grout Cleaner a try for your next tile cleaning project – we promise you won't be disappointed.
Best Long-Lasting Tile & Grout Cleaner: Microban 24-Hour Bathroom Cleaner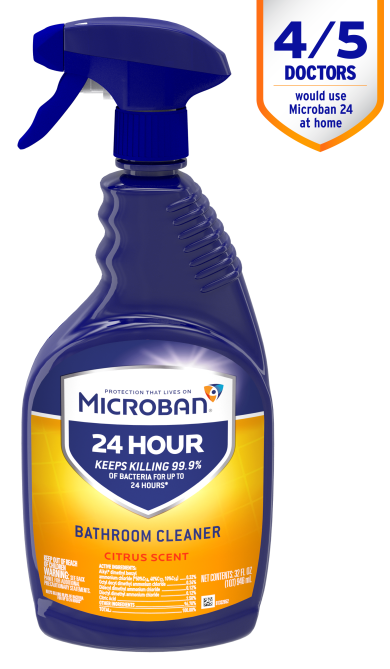 For those looking for tile and grout cleaners that can eliminate mold, mildew, germs, and viruses, we recommend Microban 24-hour bathroom cleaner. This amazing spray from Microban kills mold and mildew from within and prevents it from re-growing for at least seven days. It is intended to eliminate 99.9% of bacteria, germs, and viruses and helps to eliminate scum from the soaps. Also, it can easily be used on baths, showers, toilets, counters, bathtubs, and other surfaces. Furthermore, it can be used in the shower to disinfect surfaces and remove dirt.
Not only does it clean tile and grout effectively, it also provides continuous antibacterial protection for up to 24 hours – perfect for high-traffic bathrooms or kitchens. Plus, it's safe to use on various surfaces, from tile and grout to shower doors and counters.
Best Tile & Grout Cleaner for Mold: RMR-86 Instant Mold & Mildew Stain Remover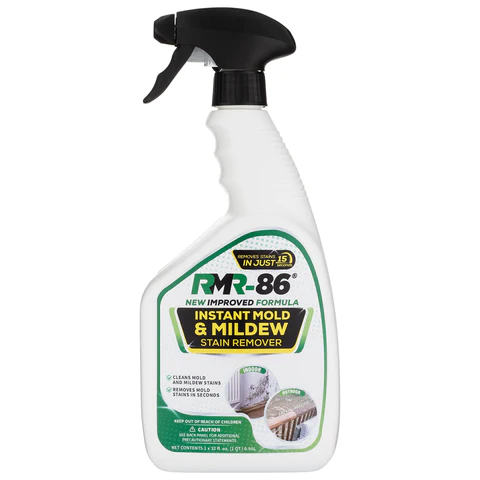 For those whose tile and grout are stained with mold, mildew, or soap scum, we recommend RMR-86 Instant Mold and Mildew Stain Remover. Do not look for cheaper solutions; try RMR-86. If it is hard to remove mold from your tile and grout, getting it off the grout lines could be especially challenging. Consider using this well-loved tile and grout cleaning spray by RMR. The spray targets a variety of messes between the grout and the walls. This spray is strong, quick-acting, and can handle the most stubborn stain and unpleasant smells. You can also use them in kitchens, bathroom doors and shower curtains, walls, and other areas where staining often takes root. Just make sure to read the instructions label before you proceed with the cleaning and follow the manufacturer's recommended tile and grout cleaning process.
Best tile & grout cleaner for machines: Hoover Renewal tile & grout floor cleaner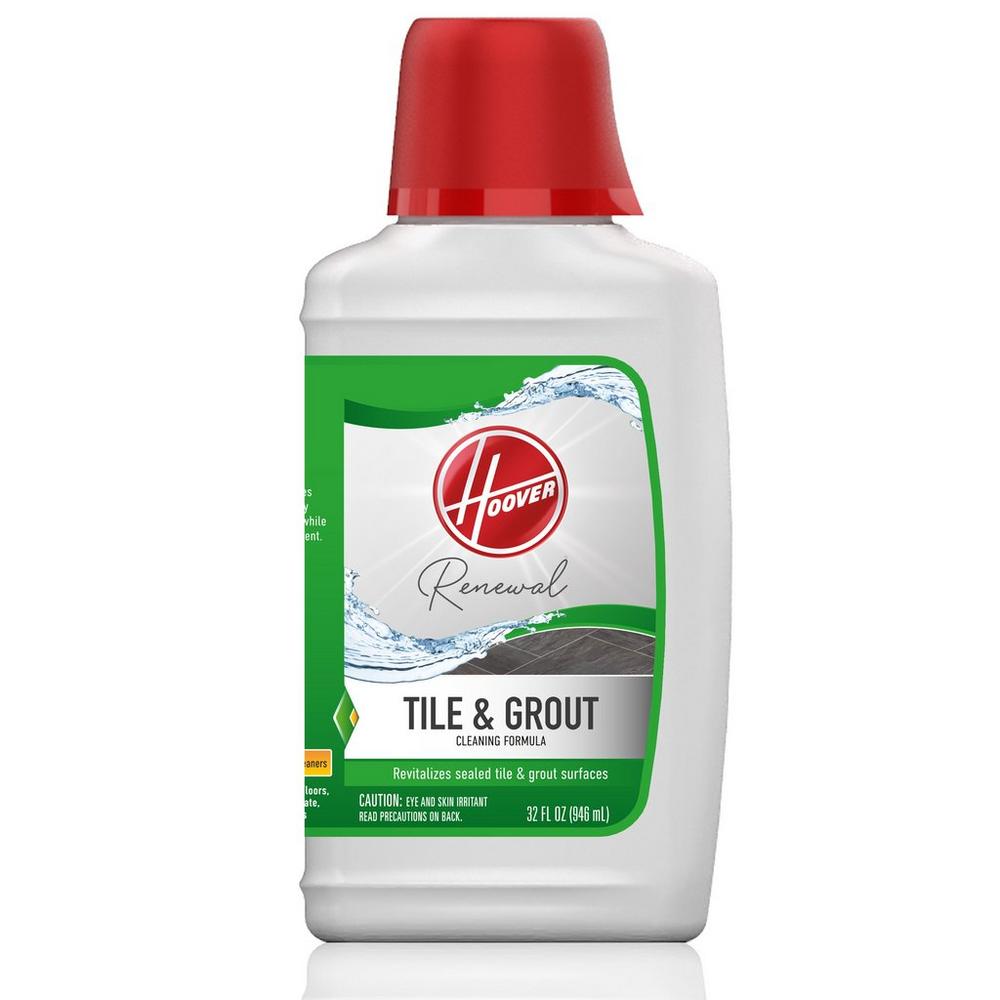 If you decide to use a tile and grout cleaning machine, we recommend trying Hoover Renewal. This Hoover Tile Cleaner will please the crowd. This powerful, effective solution can be used on stained and discolored grout, tile floors, walls, or other areas and will remove any traces of dirt and debris. It's specially crafted for cured hard floors (vinyl, ceramic, hardwoods, etc.), leaving your home smelling fresh for hours thanks to its pleasant citrus aroma.
The Hoover Renewal Tile & Grout Floor Cleaner is designed to provide deep cleaning for grout and tile surfaces. Its specially formulated solution effectively removes tough dirt, grime, and grease buildup. This cleaner can be used in hot and cold water machines, making it versatile for various floor-cleaning equipment. Additionally, its fresh scent leaves behind a pleasant aroma after use. The Hoover Renewal Tile & Grout Floor Cleaner is reliable for achieving clean and refreshed grout and tile surfaces.
Best Gel Tile & Grout Cleaner: Soft Scrub Gel With Bleach Cleaner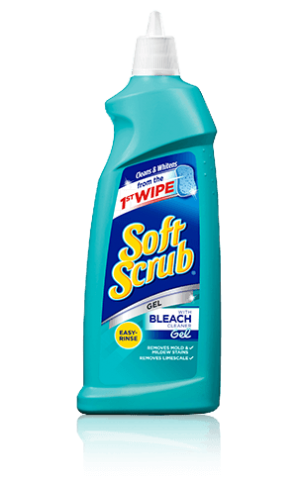 This popular option from Soft Scrub is a home tile cleaner that is ideal for grout and tile cleaning, as it is powerful enough to penetrate tough surfaces and grime. Consumers like this tile and grout cleaning product because gel cleaners stay right where it's supposed to, so you know your actions will go directly, not stale like a liquid solution.
Use caution when using this product for grout cleaning as it contains bleach and can discolor or remove color completely from colored grout. Because of bleach, it might not be suitable for people looking to avoid or eliminate bleach from their environment.
Best Tile & Grout Cleaner for Showers: Mold Armor Mold & Mildew Stain Remover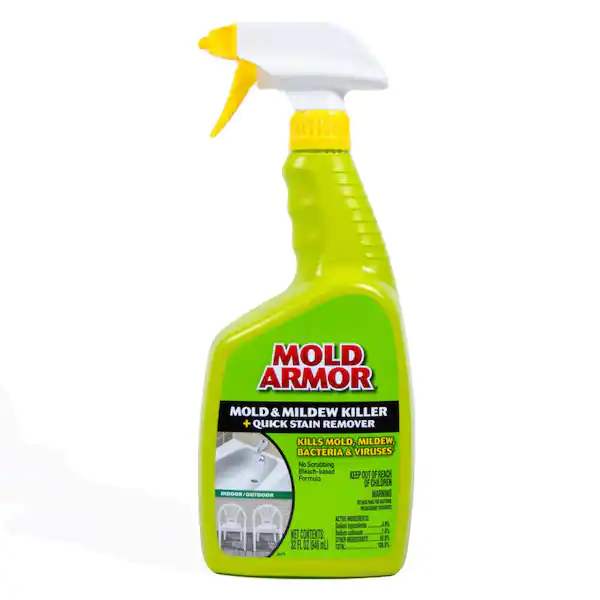 A shower is used daily, and grout and tile can easily become grimy with soap scum and mold buildup. This is why you should look for tile and grout cleaner that effectively penetrates grout lines to remove stubborn dirt and grime and leave your shower sparkling clean. Mold Armor Mold & Mildew Stain Remover is such a tile cleaner. It can also be used on other surfaces, such as countertops and backsplashes. Spray on, allow it to sit for a few minutes, then scrub with a brush or cloth and rinse off. For tough stains, repeat the process or let sit for longer before rinsing. Say goodbye to hours of scrubbing with harsh chemicals – Mold Armor Mold & Mildew Stain Remover does the work for you with minimal effort.
Moreso, who is interested in cleaning the bathroom? Mold Armor Mold & Mildew Stain Remover is also great for people that need an effective solution with no chemistry. This highly effective cleaner aims to destroy mold and mildew in bathrooms and showers. It is sprayed directly onto surfaces including grout, sink, countertop, and toiletries and is bleach-free.
Best Tile & Grout Cleaner for Floor Tile: Zep Grout Cleaner & Brightener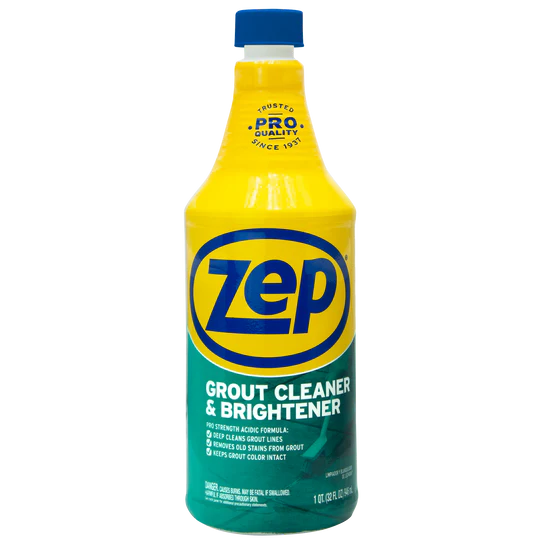 If you're looking for the best tile and grout cleaner for your floor tile, look no further than Zep Grout Cleaner & Brightener. This product is a powerhouse for cleaning grout and restoring its original color. It's easy to use – spray on and scrub with a brush or sponge, then rinse off. Regular use will help prevent future grime buildup. Trust me; this grout cleaner will leave your tiles looking brand new. Give it a try and see the difference for yourself.
This grout and tile cleaner comes in a bottle, so you'll need a sprayer to apply or use a sponge or soft cloth to clean the grout. Zep Grout Cleaner & Brightener is an effective and versatile product aimed at not only cleaning grout but also whitening. It contains a highly efficient acidic (non-bleach) formula that penetrates and lifts out stains without requiring any heavy scrubbing. Use on the white grout lines on tile floors as well as on countertops; this makes the product reusable and handy in many rooms.
Zep Grout Cleaner & Whitener comes highly recommended for its ability to penetrate deep into grout lines and remove tough stains. As a professional grout cleaning service, we strongly recommend this grout cleaning product for your stained grout or tiles.
Our Tile and Grout Cleaning Process
My Carpet Cleaning, despite its name, is a professional tile and grout cleaning company. We utilize our tile and grout cleaning process's newest technologies, cleaning solutions, and tools. If for any reason, you decide to entrust your tile and grout cleaning to the professionals instead of doing it yourself, we would like to shortly describe the process we use to clean grout and tile.
Our tile and grout cleaning process begins with pre-treatment of the grout lines using an enzymatic cleaner. This helps to break down any built-up grime and dirt in the grout. Next, we use a high-pressure steam cleaner to remove debris from the tile and grout. Our technicians then apply a sealant to protect against future stains and buildup. This process leaves your tiles and grout looking brand new.
We also offer grout color sealing services, which involve using a colored sealant to change the color of grout lines or make them uniform in color. This can dramatically improve the overall appearance of tiled surfaces.
Our team is highly trained and experienced in tile and grout cleaning, ensuring top-notch results for our customers. Trust us to restore the beauty of your tiled surfaces.
Conclusion
There are various tile and grout cleaners on the market, but it's important to find one that fits your needs and the type of surface you are cleaning. Soft Scrub Gel with Bleach is great for tough surfaces and grime, Mold Armor is perfect for showers and mold removal, and Zep Grout Cleaner & Brightener shines in restoring old grout lines on floors. No matter what kind of grout or tile cleaning dilemma you face, there's a solution. Give these products a try and see the difference they can make in your home. Happy cleaning!